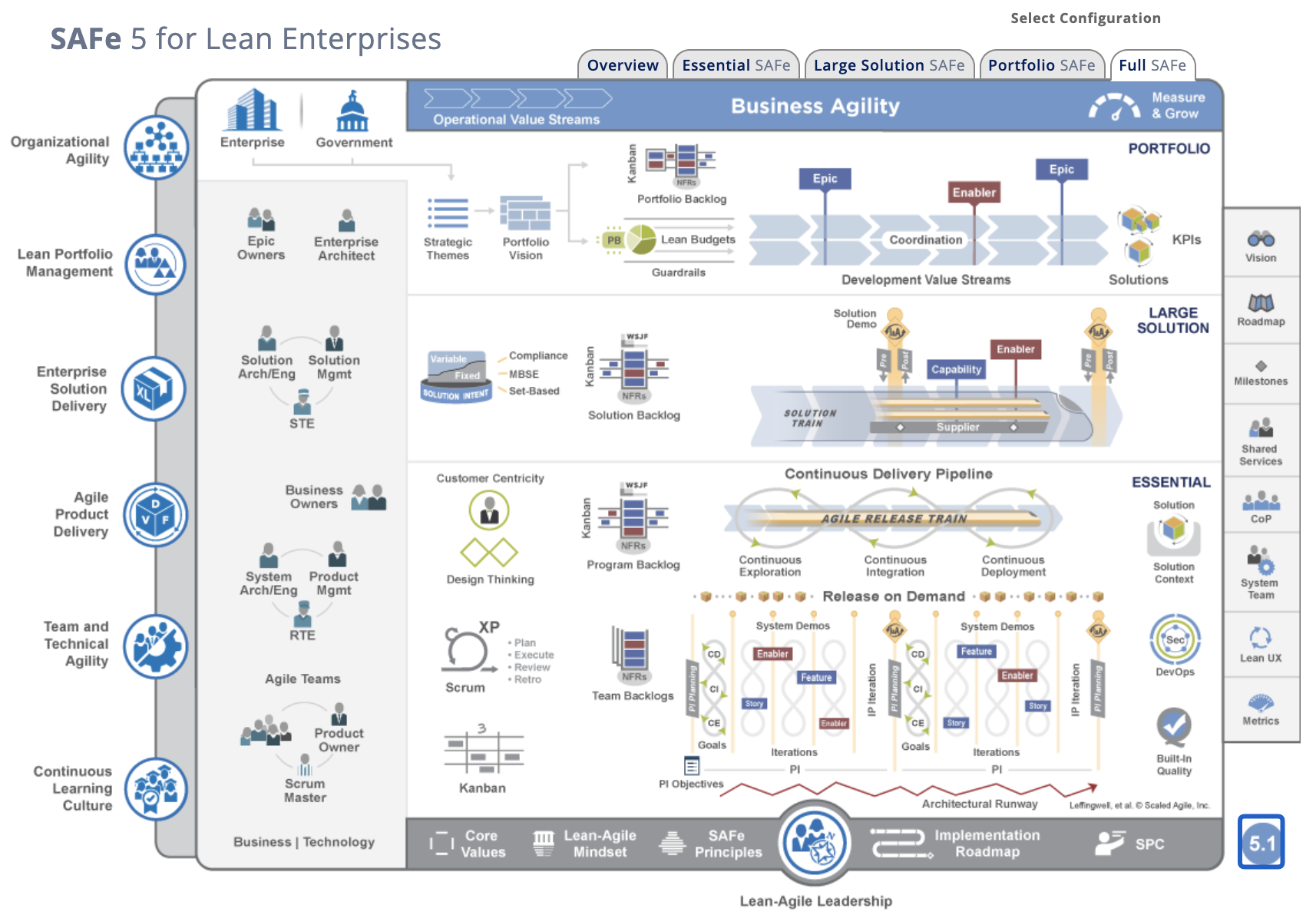 On behalf of the entire Scaled Agile team and the Principal Contributors, we are delighted to announce an update to SAFe 5 that includes an enhanced Big Picture. Watch the video below for a detailed walkthrough of what's new in this release. For a quick summary, read on.
What's New in the

SAFe 5.1

Big Picture?
A hallmark of SAFe is that it stays current with new and evolving business and technology trends. Our incremental, continuous delivery model enables enterprises to adapt more quickly and stay ahead of the competition by leveraging the latest SAFe knowledge. For example, COVID-19 forced many organizations to change how Agile teams and ARTs collaborate. In response, the guidance for PI Planning, Organizational Agility, and Agile Teams was quickly updated.
Most SAFe updates require changes to various articles and new advanced topics only. Sometimes, however, we need to make updates to the Big Picture for emphasis and improved navigation to the latest content. Minor releases of the Big Picture occur under a 'dot release' like the current Big Picture version 5.1.
Over time, the incremental advances and significant new knowledge drive the release of a new version of SAFe, as was the case with SAFe 5—which extended SAFe into Business Agility. In these cases, SAFe practitioners and SPCs must keep pace with upgraded knowledge, training, and certification.
Staying Current with SAFe
To help our community keep current with the latest guidance, we've introduced a new feature that provides a log of meaningful incremental changes on the home page under the heading, 'What's New in SAFe.' When you click on a change item, it will open a blog post to inform our readers of the 'why' and 'what' for the changes. And our SAFe 5 FAQs on training, certification, courseware, and toolkits is still a helpful resource.
Staying Current with SAFe
As you can see from the Home page, SAFe 5 has a new Big Picture. Figure 1 shows the Full SAFe configuration. Key changes are highlighted with reference numbers and rectangular boxes.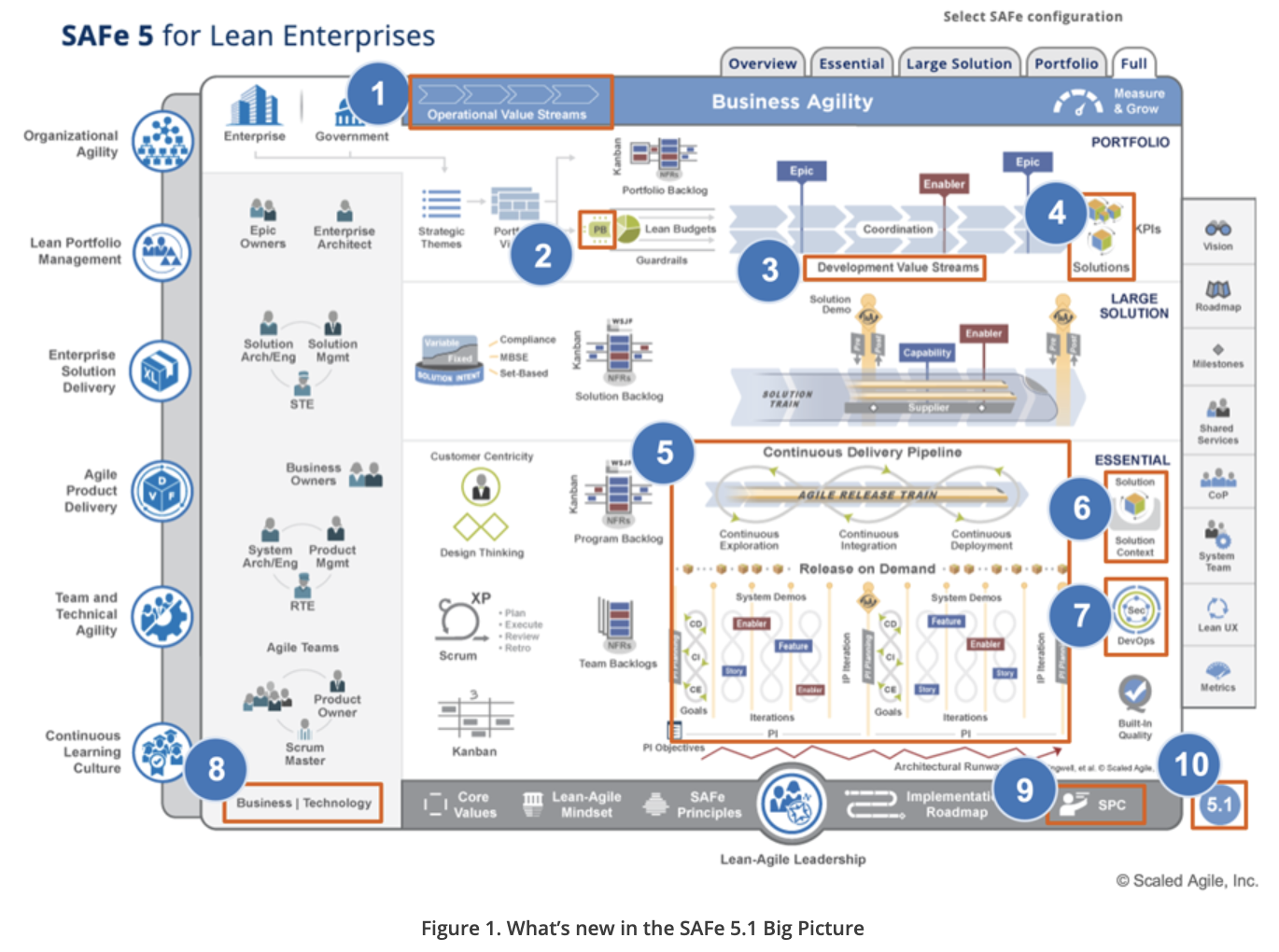 Below are the highlights of the changes to the SAFe 5.1 Big Picture:
1. Operational Value Streams
A new Operational Value Streams icon (Figure 2) and guidance article describe how an enterprise delivers value to its customers. These value streams represent the sequence of activities needed to deliver a product or service to a customer.

This new article also describes four categories of operational value streams, as illustrated in Figure 3.
2. Participatory Budgeting
The PB icon was added to the left of the Lean Budgets (Figure 4). Participatory Budgeting (PB) is the process that Lean Portfolio Management (LPM) uses to allocate the total portfolio budget to its development value streams.

3. Development Value Streams
The value streams within the portfolio level of the Big Picture were relabeled to Development Value Streams (Figure 5) to clearly distinguish them from Operational Value Streams.

4. Indicating Solutions in the Portfolio
The Solution icon (Figure 6) clarifies that development value streams deliver solutions that are desirable, feasible, viable, and sustainable.
5. Continuous Delivery Pipeline
The following changes were made to better illustrate flow through the Continuous Delivery Pipeline (Figure 7):
Improved the Continuous Delivery Pipeline icon to clearly illustrate the DevOps triple-infinity-loop
Reduced the thickness of the PI boundaries to better reflect the framework's continuous delivery model
Distributed the release box icons across the PI to illustrate that releases can occur at any time
Relabeled Program Increment to 'PI,' to better describe its purpose as a planning interval rather than a big batch delivery once per PI
Repeated the infinity loops within the iterations to emphasize that these activities occur continuously
The formerly blue Solution icon has been replaced with the 'Solution box' (Figure 8) to be consistent with the Agile Product Delivery competency.
The DevOps icon has been enhanced to include security (Sec), and now links to a new landing page (Figure 9) that emphasizes how security is an integral part of DevOps. The landing page links to two additional articles, which together comprise a three-part series on DevOps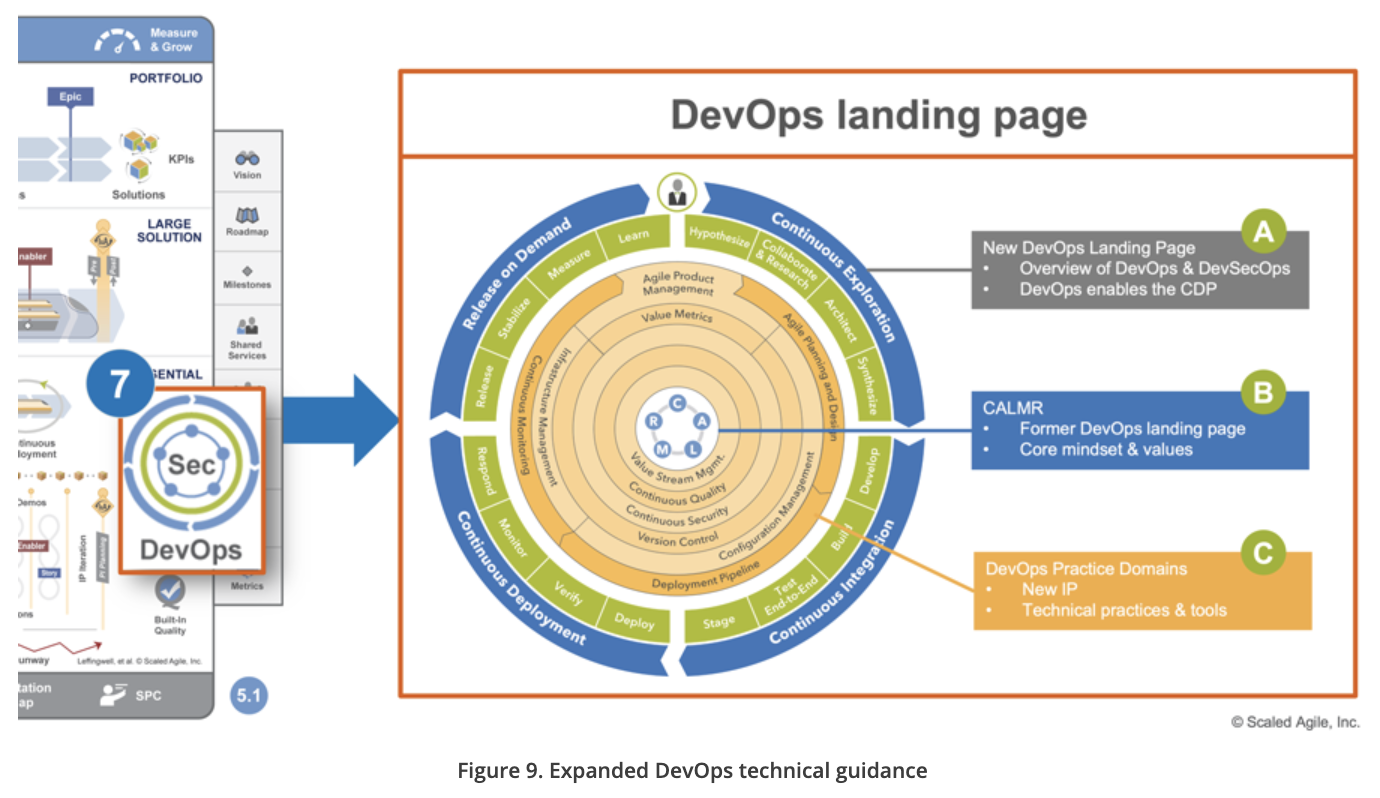 The 'Business | Dev | Ops | Support' icon has been simplified to 'Business | Technology.' The new icon now links to a landing page, which guides specific Agile business and technology practices. This currently includes marketing, people operations, contracts, software, and hardware development.

'SAFe Program Consultant' has been abbreviated to 'SPC,' reducing visual clutter and employing the more commonly used term for this role.
Visit our ' TRAINING 2021' web page to read our SAFe FAQ on training, certification, and more.
https://www.allysky.com/training-2021.htm

l