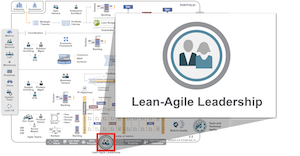 Introduction
Lean-Agile Leadership is one of the Five Core Competencies of the Lean Enterprise.
The Lean-Agile Leadership competency describes how Lean-Agile Leaders drive and sustain organizational change and operational excellence by empowering individuals and teams to reach their highest potential. They do this by learning, exhibiting, teaching, and coaching SAFe's Lean-Agile mindset, values, principles, and practices.
Why Lean-Agile Leaders?
An organization's managers, leaders, and executives are ultimately responsible for the adoption, success, and ongoing improvement of Lean-Agile development. Only they can change and continuously improve the organizational and operational systems that govern how work is performed. Moreover, only these leaders can create the environment that encourages high-performing Agile teams to flourish and produce value. Leaders, therefore, must internalize and model leaner ways of thinking and operating so that practitioners will learn from their example, coaching, and encouragement.
The journey to becoming a Lean enterprise is not simple or easy. As we'll see below, many managers, decision makers, executives, and other influencers have to offer a new approach to leadership. It will need to teach better, empower, and engage individuals and teams to reach their highest potential through Lean and Agile principles and practices.
Moreover, knowledge alone won't be enough. Lean-Agile leaders do not simply support the transformation: They take an active role to lead the implementation of the new way of working. But that's just the beginning. They then guide the activities necessary to understand and continuously optimize the flow of value through the organization. They organize and reorganize around value. They identify queues and excess Work in Process (WIP). They continually focus on eliminating waste and delays. They eliminate demotivating policies and procedures. They inspire and motivate others. They create a culture of relentless improvement that provides the space required for teams to innovate.
As illustrated in Figure 1, Lean-Agile Leadership anchors the center of the foundation of the Framework.
Figure 1. Lean-Agile Leadership anchors the foundation of SAFe
Figure 1 illustrates two primary responsibilities of Lean-Agile Leadership:

1. Leaders must have the knowledge and ability to think and act as 'Lean-thinking manager-teachers.' This is the persistent skillset necessary to practice and teach Lean thinking.

2. They must lead and sustain the new way of working by fostering and inspiring the organizational change needed. They drive the continuous journey of the Lean enterprise.
Lean-Thinking Manager-Teachers
Stoller's quote reminds us that traditional management practices are insufficient for this expedition. Instead, the Lean enterprise depends on what Toyota calls Lean-thinking manager-teachers. These leaders understand Lean thinking and principles and, as part of their everyday work activities, and teach them to others. This is integral to who they are and what they do, affecting every aspect of their approach to helping teams build systems and solutions in a Lean and Agile manner.
In the SAFe context, these leaders reinforce the core values, adopt and exhibit a Lean-Agile mindset, and apply SAFe Lean-Agile principles. Each is described in the sections below.
Reinforcing Core Values
Four core values define SAFe's essential ideals and beliefs: alignment, built-in quality, transparency, and program execution. At every opportunity, a leader's behavior plays a critical role in communicating, exhibiting, and emphasizing them. Here are some suggestions for reinforcing these values:

Alignment. Communicate the mission by establishing and expressing the portfolio strategy and solution vision. Help organize the value stream and coordinate dependencies. Provide relevant briefings and participate in Program Implement (PI) Planning. Help with backlog visibility and review and preparation; constantly check for understanding.
Built-in quality. Demonstrate quality by refusing to accept or ship low-quality work. Support investments in capacity planning for maintenance and reduction of technical debt. Ensure that concerns of the entire organization—including UX, architecture, operations, security, compliance, and others—are part of the regular flow of work.
Transparency. Visualize all relevant work. Take ownership and responsibility for errors and mistakes. Admit their missteps while supporting others who acknowledge and learn from theirs. And they never punish the messenger. Instead, they celebrate learning.
Program execution. Many leaders participate as Business Owners in PI execution and establish business value. All leaders help adjust the scope to assure demand matches capacity. They celebrate high-quality program increments. They aggressively remove impediments and demotivators.
Adopting and Exhibiting a Lean-Agile Mindset
The SAFe Lean-Agile Mindset is the combination of beliefs, assumptions, and actions of leaders and practitioners who embrace the concepts in the Agile Manifesto and the SAFe House of Lean.
This way of thinking is leadership's intellectual foundation for adopting and applying SAFe principles and practices. As illustrated in Figure 2, there are two aspects of a Lean-Agile mindset.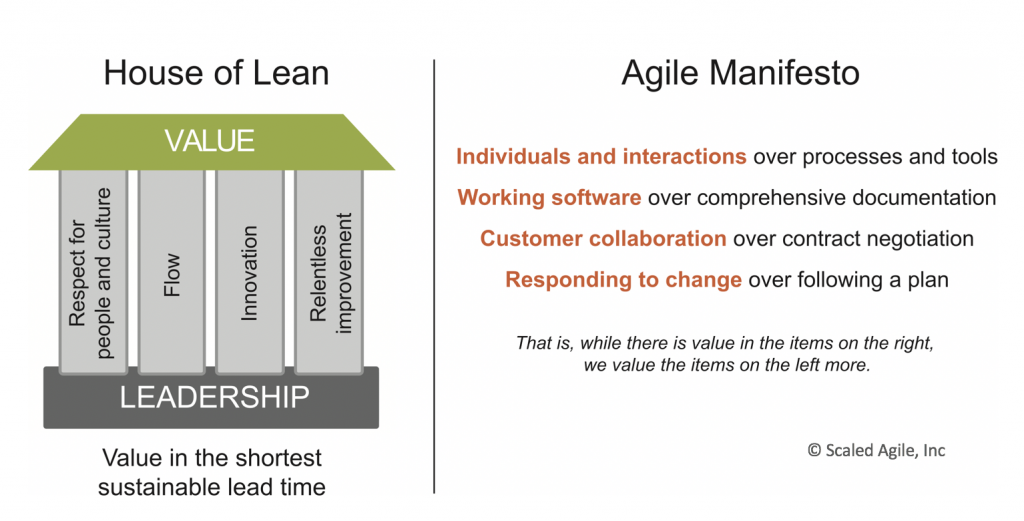 Figure 2. SAFe House of Lean & Agile Manifesto
The SAFe House of Lean illustrated Lean thinking. The roof represents the goal of delivering value. The pillars embody respect for people and culture, flow, innovation, and relentless improvement to support the goal. Lean-Agile Leaders provide the foundation on which everything else stands.
The Agile Manifesto provides a value system and set of principles essential to successful Agile development. SAFe is built on the Agile values, principles, and methods as embodied by cross-functional Agile teams. Every leader must fully support and reinforce the intent and application of the manifesto.
Supporting SAFe Lean-Agile Principles
As described in Lean-Agile Principles, SAFe is based on nine immutable, underlying Lean-Agile principles. These tenets and economic concepts inspire and inform the roles and practices of SAFe, influencing leadership behaviors and decision-making.
The principles are:
#1 – Take an economic view
#2 – Apply systems thinking
#3 – Assume variability; preserve options
#4 – Build incrementally with fast, integrated learning cycles
#5 – Base milestones on an objective evaluation of working systems
#6 – Visualize and limit WIP, reduce batch sizes, and manage queue length
#7 – Apply cadence; synchronize with cross-domain planning
#8 – Unlock the intrinsic motivation of knowledge workers
#9 – Decentralize decision-making
Each is necessary to experience the personal, business, and economic benefits of applying SAFe. Moreover, these principles work together as a system; each informs the others, and the whole is far greater than the sum of these individual principles.
All of these principles are directly relevant to leaders. Principles #1 and #2 set the economic and system thinking context for the solution and organizational development. Principles#8 and #9 are particularly relevant to leading others. Management has both the responsibility and authority to establish the culture of the organization and to create an environment that empowers and motivates knowledge workers. These last two are relevant to leadership, as described below.
#8 – Unlock the intrinsic motivation of knowledge workers. As the article notes, we have the good fortune of working with some of the smartest people in the workforce—motivated and talented knowledge workers who build the world's most important systems. It is hard to overstate the importance of the leader's role in supporting these employees and to help them avoid the many demotivating factors that have found their way into our traditional management habits. The Agile HR article describes six significant themes that can set the context for effective management of this next generation of knowledge workers.
#9 – Decentralize decision-making. Similarly, Principle #9 provides the guidance leaders need to delegate effective decision-making, and thereby accelerate the flow of value. In turn, this reinforces Principle #8, as empowered decision-making is a prerequisite to motivate knowledge workers.
Leading the SAFe Transformation
As we just described, being a Lean-thinking manager-teacher provides leaders with the thought processes and practical tools they'll need to start building the Lean enterprise. The goal of achieving the shortest sustainable lead time is always clear: Flow, or the lack of it, becomes apparent. Queues are discovered and analyzed. WIP is visible and managed. Waste and delays are eliminated at every turn.
But as you embark on a journey of significant organizational change—perhaps more significant than most of us have experienced in our careers—even those tools are not enough. For this part of the journey, leaders need to apply the tools of organizational change management and change leadership. Kotter [2] described eight steps in implementing successful change:
Establish a sense of urgency
Create the guiding coalition
Develop the vision and strategy for change
Communicate the change vision
Empower employees for broad-based action
Generate short-term wins
Consolidate gains and produce more change
Anchor new approaches in the culture
Clearly, these steps require the active participation of leaders committed to the change. But even this is not enough: as Heath and Heath note in their book on change [3], leaders "need to script the critical moves" that are needed to accomplish the change.
The Implementation Roadmap
Based on these insights from the field of organizational change management, the SAFe Implementation Roadmap article series guides leaders on this particular journey, which is summarized in the Implementation Roadmap article and Figure 3 below.
Figure 3. The SAFe Implementation Roadmap (v4.6)
The SAFe implementation roadmap is described in a series of 12 articles that aligns with Kotter's blueprint. For example, the sense of urgency is often established in the many conversations that lead up to an organization 'reaching the tipping point' and deciding to 'go SAFe.' Our next recommended action is to train a core group of Lean-Agile change agents and leaders who will form the "powerful guiding coalition." The pattern continues throughout the roadmap and was designed to build the learnings of successful organizational change into the model for SAFe transformation. This roadmap helps leaders 'know the way' as they drive for successful change.
Role of the SAFe Program Consultant
Even with these skills in place, however, we also understand that a more specific and "sufficiently powerful coalition" of change agents is needed [2]. While every leader plays a role in producing the change, SAFe Program Consultants (SPCs) are specifically trained and assigned for this task in the SAFe context. Their intrinsic motivation—combined with the training, tools, and courseware they will need—play critical roles in the successful implementation and sustainability of SAFe.
Role of the Traditional Manager in the SAFe Lean Enterprise
There is one last important discussion on the function of leadership in SAFe. Of all the roles affected, none is more changed than the traditional functional manager, i.e., development manager, engineering manager, program manager, quality, manager, compliance, etc.
SAFe emphasizes the value of self-organizing, cross-functional teams; it is the cornerstone of Agile development. This supports a leaner management infrastructure, with more empowered individuals and teams. Traditional, day-to-day employee instruction and direction are no longer required. As a result, this challenges the role of executives who have been responsible for both managing development and fostering the personal and career growth of their direct reports. While Lean-Agile development does not eliminate the need for sound management, the approach of the Lean-thinking manager-teacher is different. This important topic is the entire subject of 'The Evolving Role of Managers in Lean-Agile Development.'
Summary
It's no surprise that effective leadership is necessary for achieving any kind of significant organizational change. And this is not just any change: this is a shift to a persistent and relentlessly improving Lean enterprise, based on the fundamentals of Agile and Lean development. For this, we need leaders who know what they are trying to do, and how they are going to go about it. In other words, we need Lean-thinking manager-teachers who understand how to lead and sustain the change.